Program Leader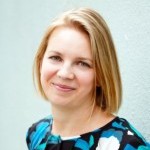 As Program Leader with LinHart Group, Anna's work focuses on leading and developing LinHart programs on Management Communications.
Anna has wide-ranging experience in the financial services industry – global emerging markets equity strategy at Merrill Lynch, macro-prudential policy manager at the UK Financial Services Authority and a Singaporean start-up, to name a few! Anna is passionate about clarity in business communications, knowing the importance of being able to pitch complex technical concepts to non-expert audience.
Anna has a master's degree in economics from Trinity College, University of Cambridge, England and a master's in finance from London Business School. She is also training as a professional coach with the Coaches Training Institute.